HiViz LED Lighting: Making a Podcast for First Responders

Chelsea Lassen
This podcast has been a long time coming.
Like, a really, reallllly long time.
The first public record of Sam mentioning making a podcast for firefighters and first responders was in December 2021 during a video tour of the office, before I'd joined the company. The idea of this project is one of the reasons I was so excited about the job opportunity as I went through the interview process.
Sam sat with me in a conference room on my first day, roughly a year ago, flipping through old pictures and telling me the story of how he built HiViz LED Lighting. Sam's life has been, for lack of better words, such a unique series of events and ideas and businesses leading up to this point.
Even a year later, the awestruck feeling I had after hearing the story for the first time stayed with me. When you hear a life story like that, you just know it's going to lead to something big. As HiViz COO Kaoma Massa said of Sam in the first episode, it's like he's lived double the life of most by the time he hit age 18.
The Making of an Emergency Vehicle Lighting Entrepreneur
For instance, one of Sam's first real business ventures was converting diesel vehicles to run on vegetable oil at age 16 (thanks to teacher turned mentor Beth Porterhouse). He carved out a name for himself in such a niche industry that the team of former California Governor Arnold Schwarzenegger spent TWO. YEARS. calling and asking Sam to do work on Arnold's fleet. Sam temporarily came out of biodiesel retirement for the job -- but only if they'd accept "a warranty as long as the driveway" because he was ready to move on from that part of his life.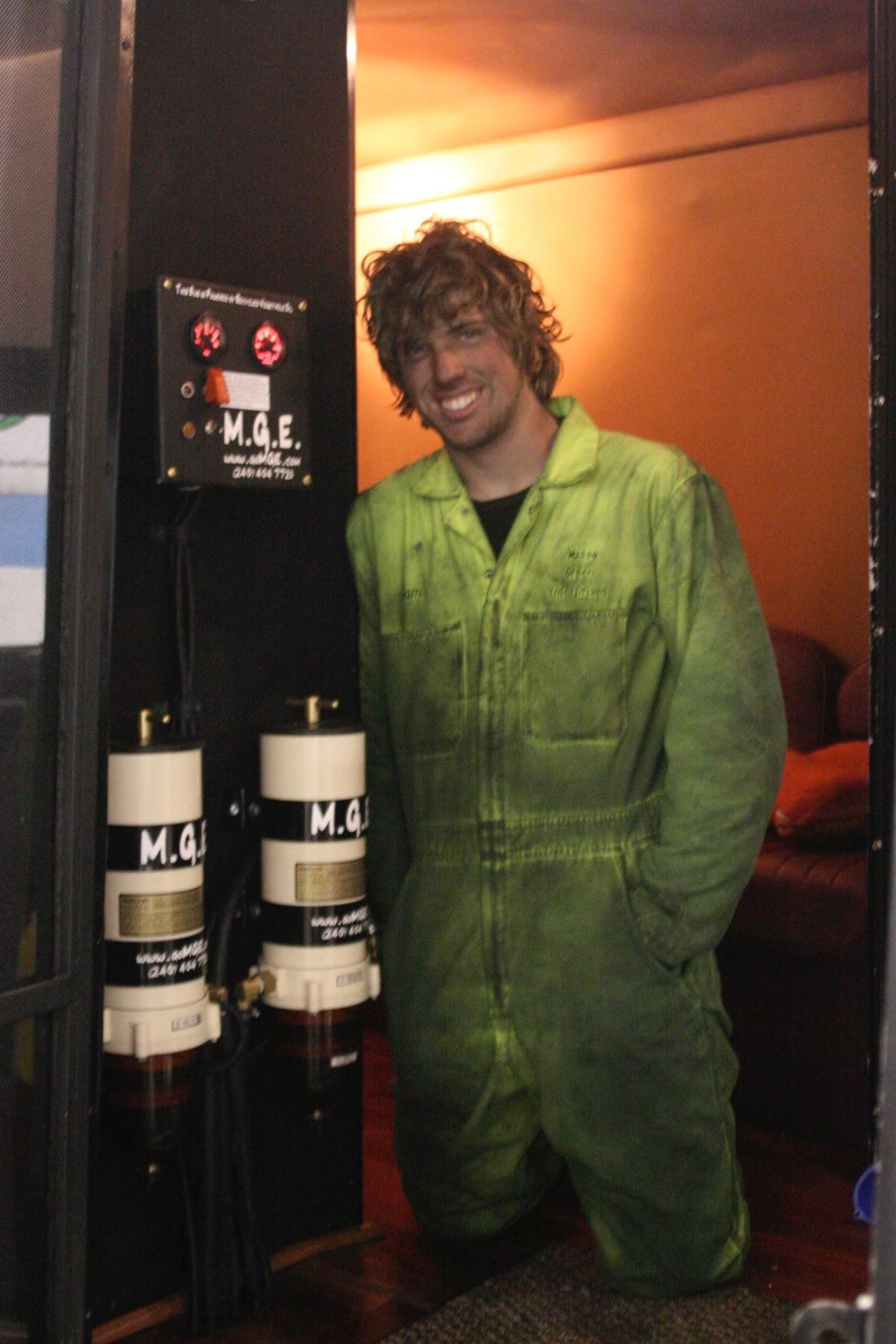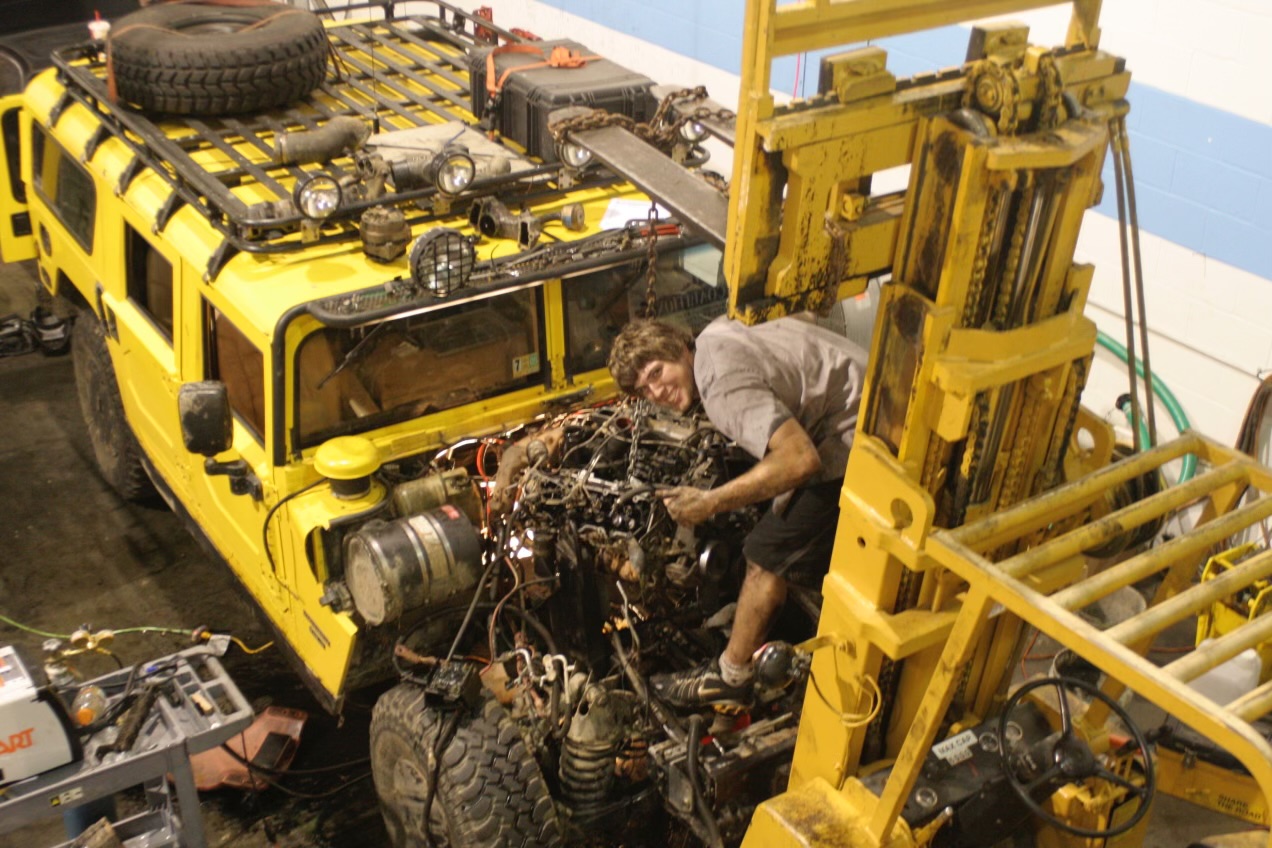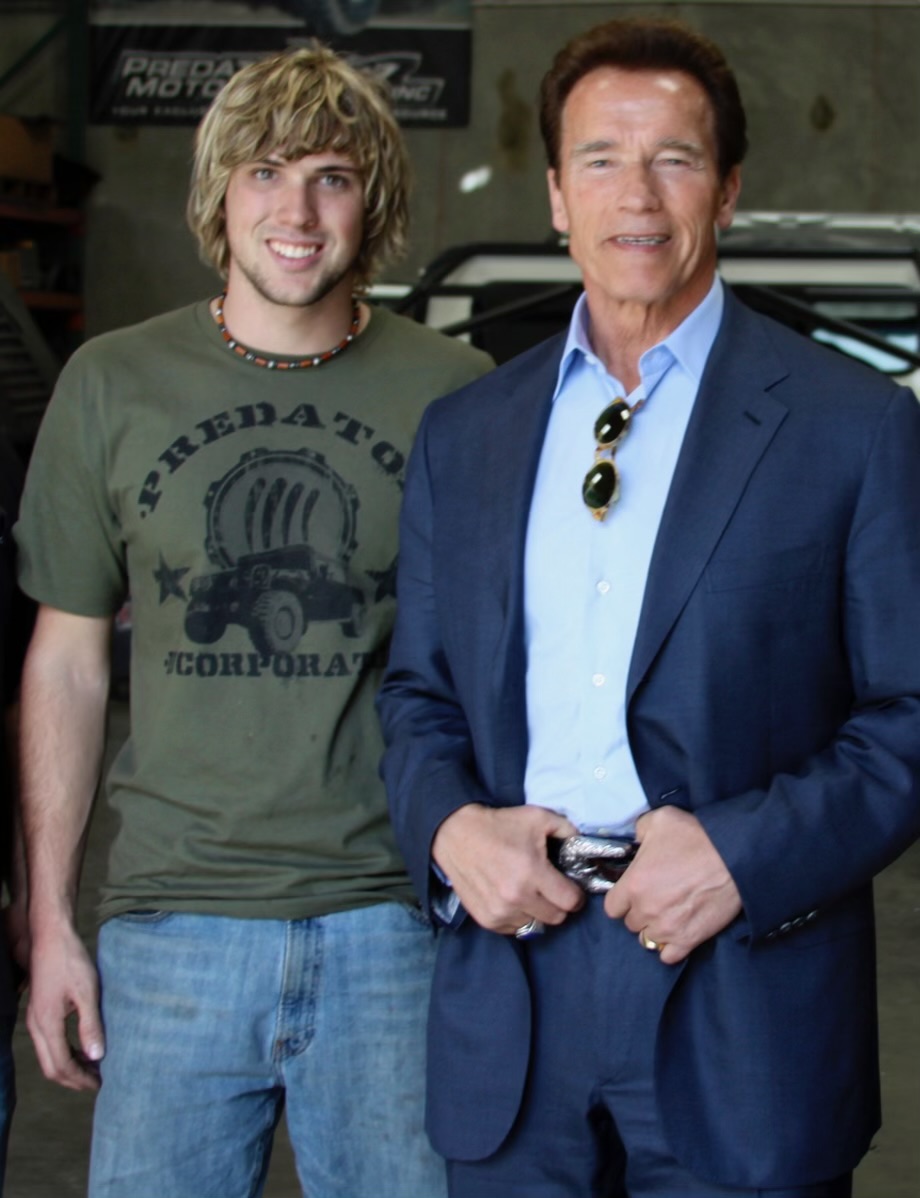 I started digging into his story more with the goal of putting it in a TikTok series. I learned that even before the biofuel days, his TRUE first business was inspired by a love of/obsession with school bus doors, Thomas Bus specifically. His bedroom door was an actual school bus door, preceding Sam's purchase of his very own real-life Thomas Bus, which was then converted for his middle school DJ business and licensed as an RV to make it legal to operate.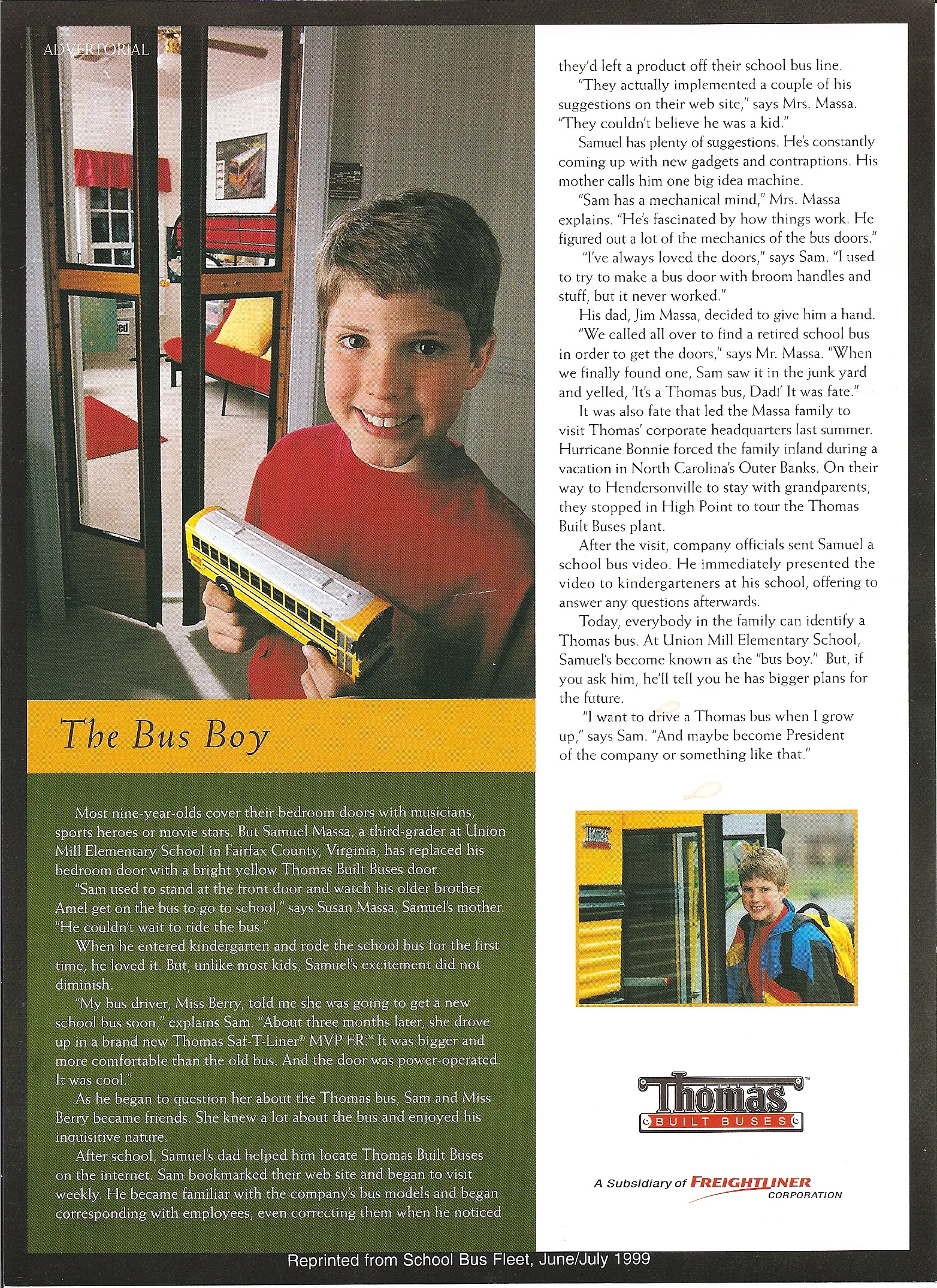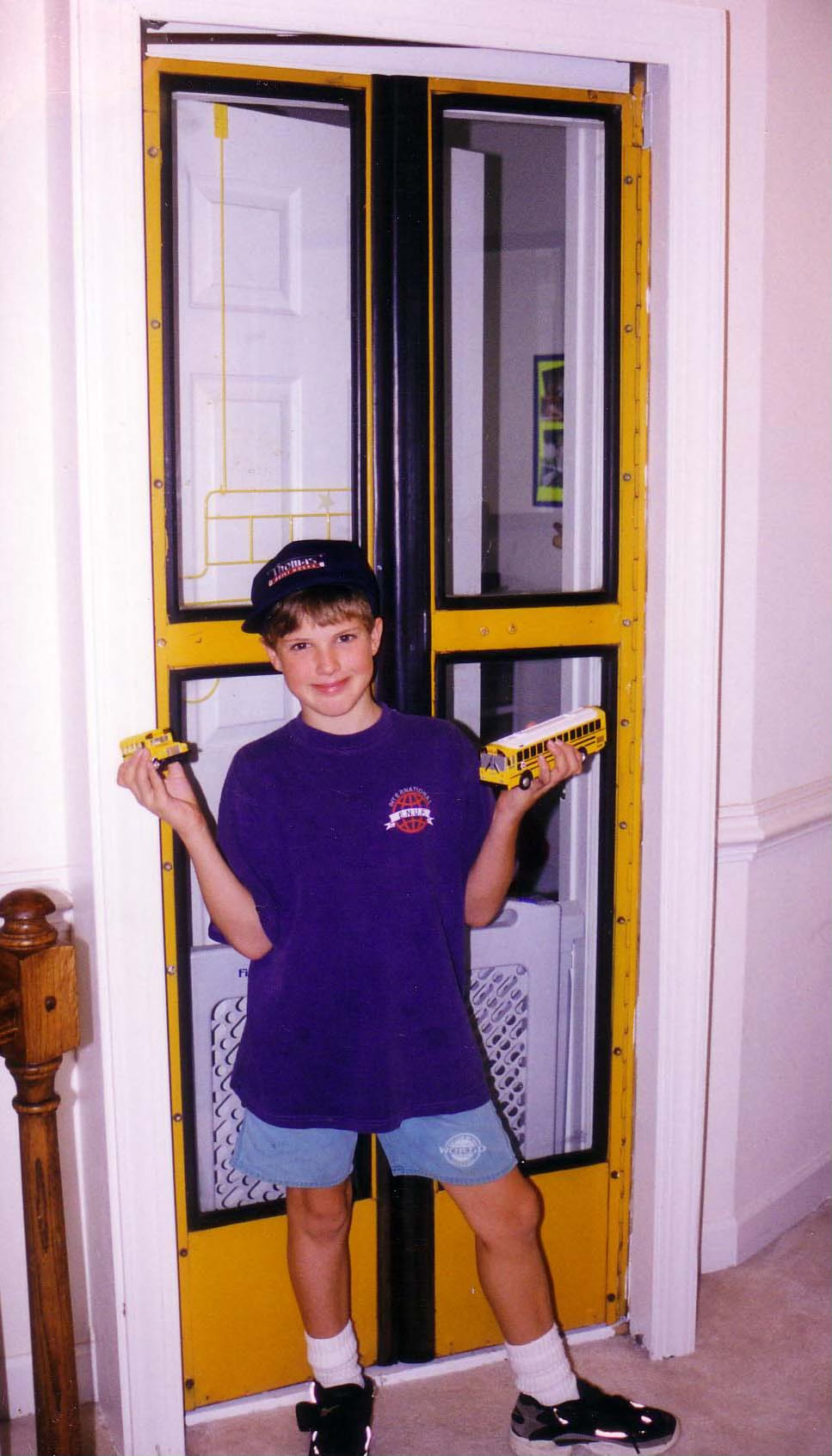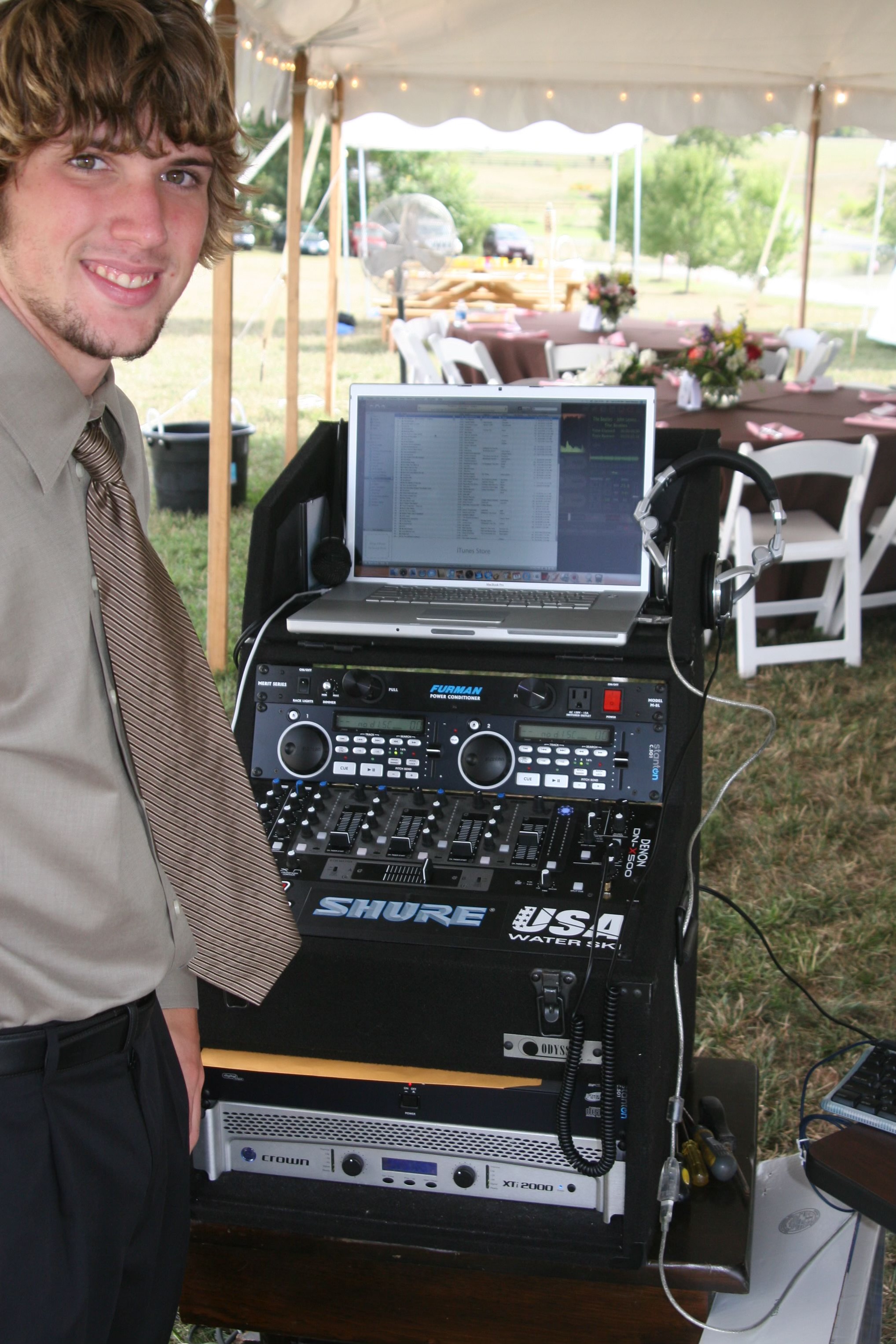 Sam's life is peppered with entrepreneurship in ways that would never occur to me, a regular person, as potential business opportunities. The further we dug into his past life, the more I started to feel like Sam is the actual most interesting man in the world (the Dos Equis guy has nothing on Sam) and that we needed to properly share this with the world.
Kaoma is a stark contrast to Sam. He's a complete goofball, she's a "serious salamander" (her words, not mine). He likes to jump into things headfirst, she likes structure and thinking through logistics. I asked Sam to describe the differences between the two of them and he quickly interjected:
"Kaoma is like drinking a warm cup of tea and cozying up to a fire with a good book. I'm like popping the top off a (yellow) Red Bull, chugging it, and doing a backflip."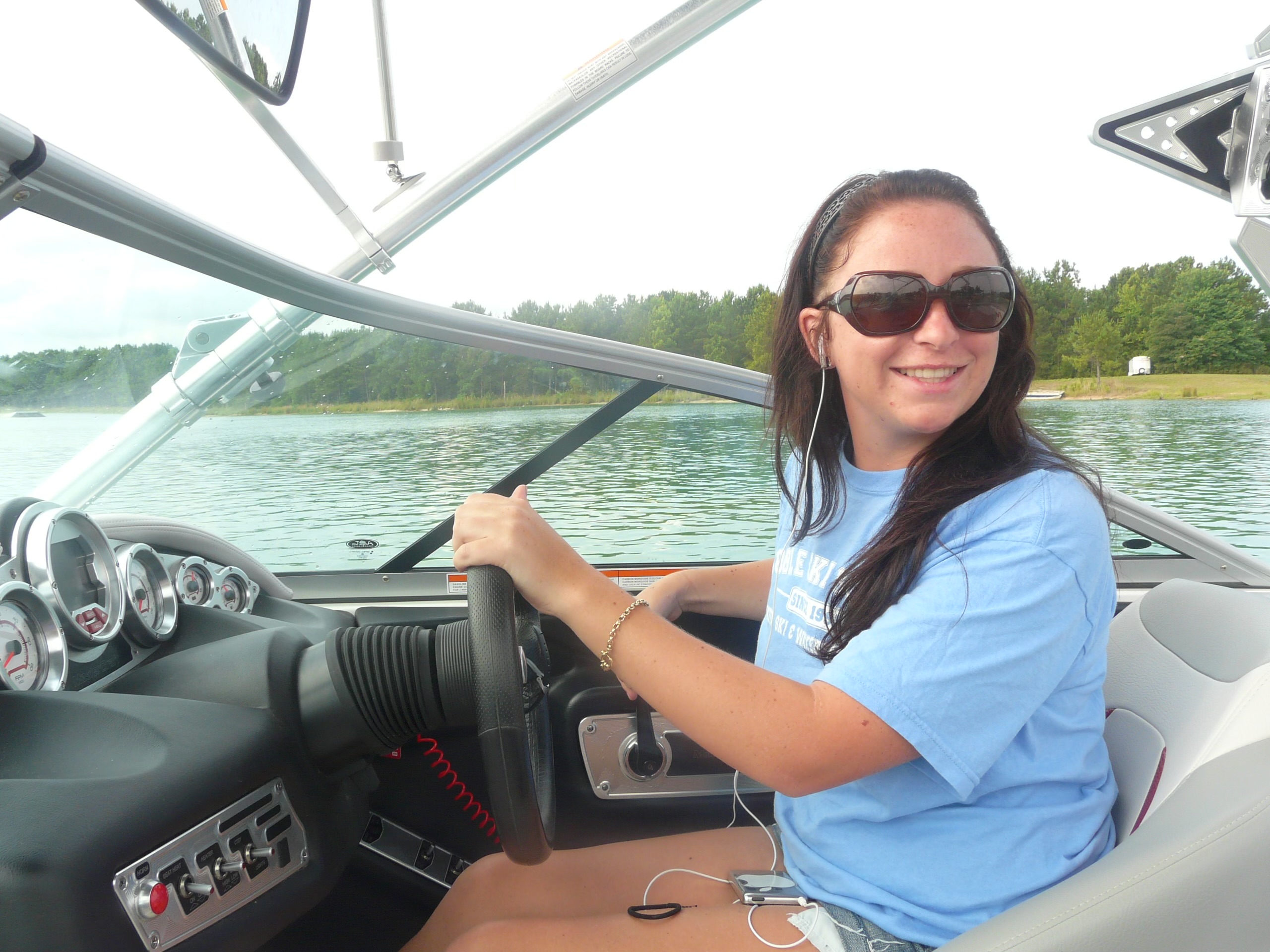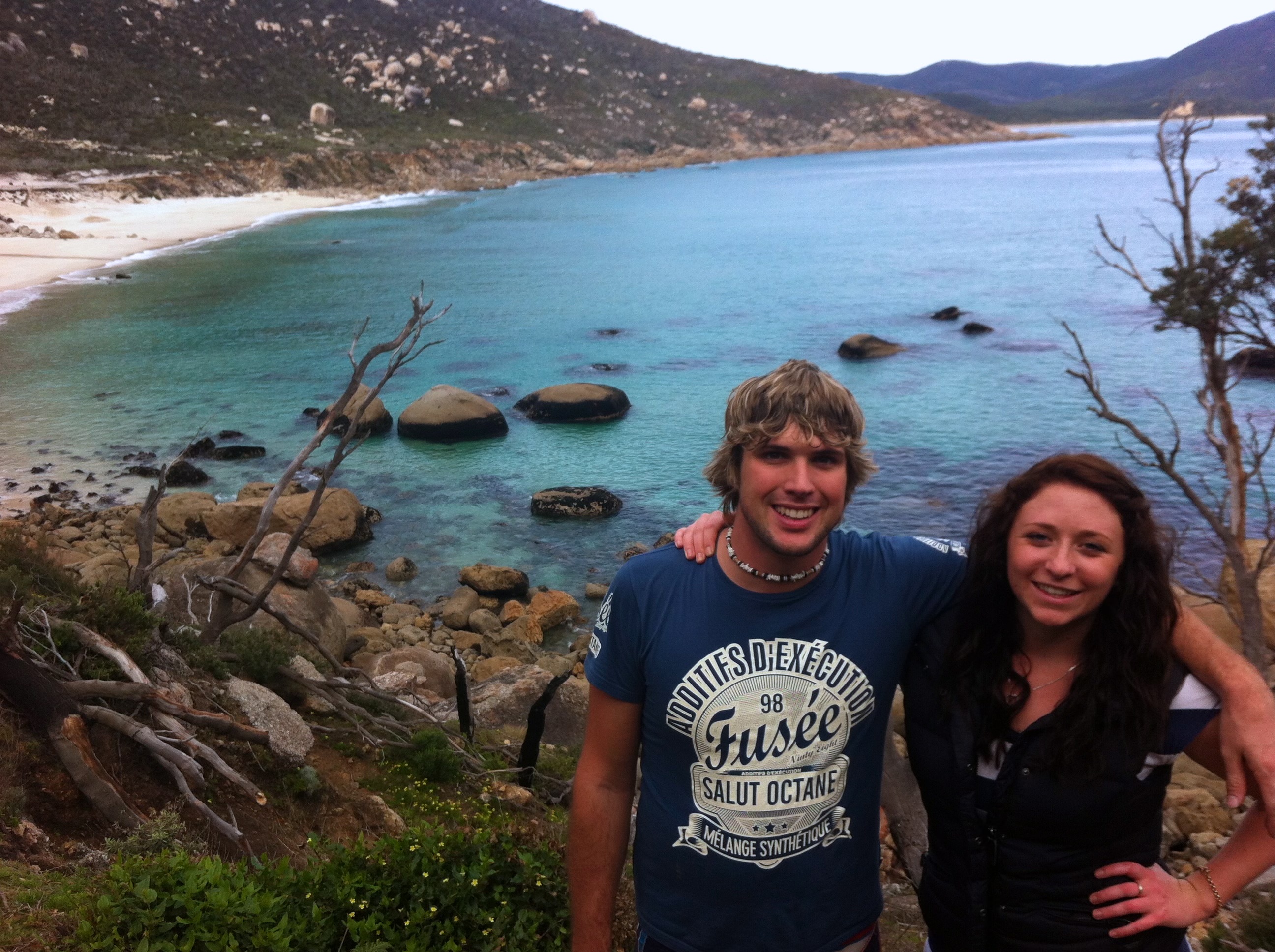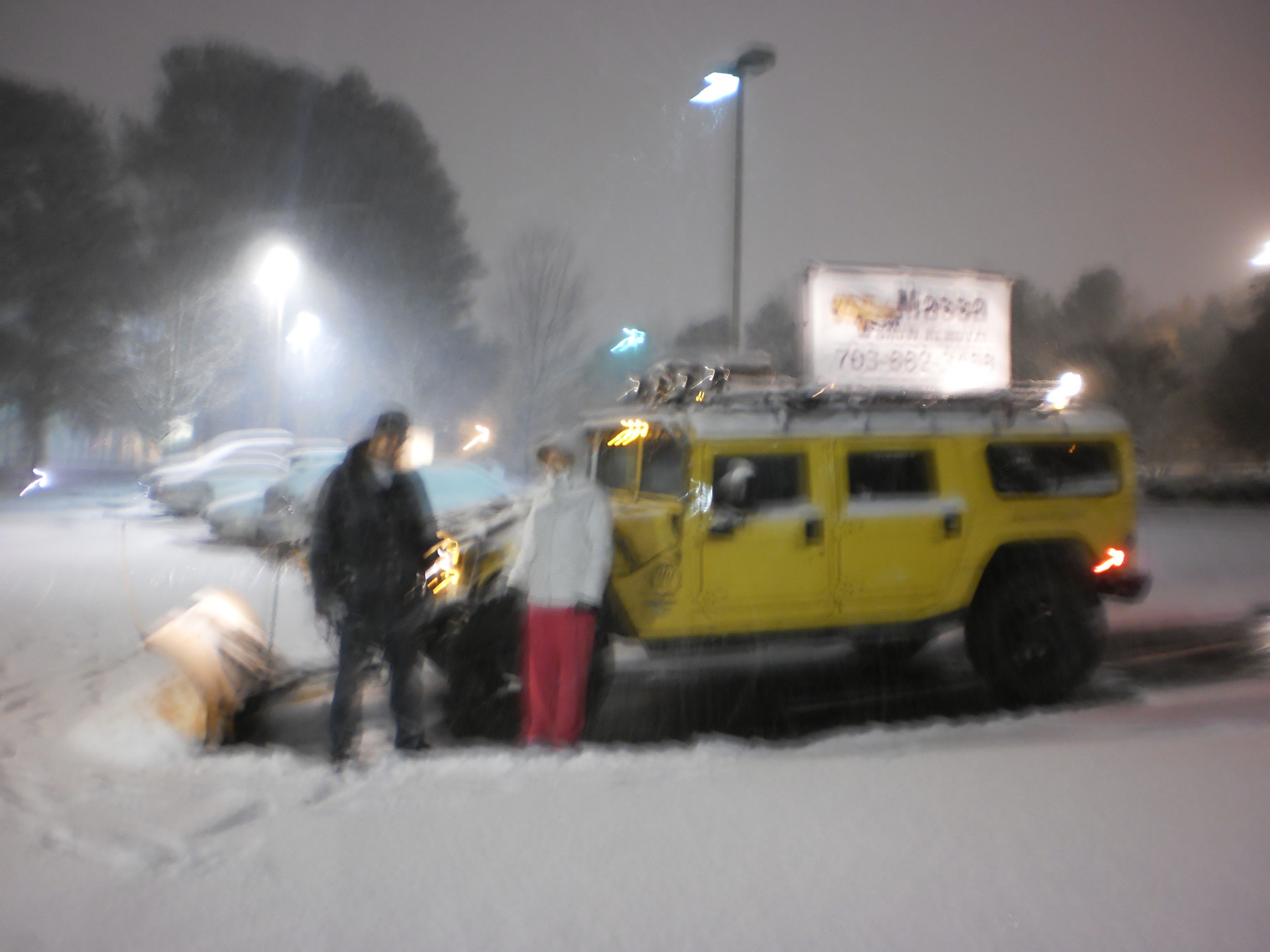 Sounds about right. Yet, somehow it all works.
The In's and Out's of Making a First Responder's Podcast
Being new to the podcasting world, we figured it out as we went. We learned that Sam talks... a lot. So much so that we ended up filming the full HiViz LED Lighting story in bits and pieces over the course of several months.
Spencer (videographer) and I also learned to account for all the goofing around before getting started, ice cream breaks, the need for "yellow bulls" (a yellow Red Bull), and Slick the Dog's snores and "gaseous omissions."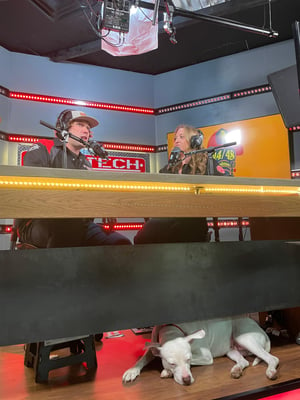 After batching up episodes for 6 months, we're pretty proud of how it's all come together and can't wait to share the rest of the founder/first responder stories this season.
But back to the first episode.
We leave off at a pivotal moment in the HiViz LED Lighting story: The birth of the Spaceship (aka our infamous green demo truck), and Sam's entry into the first responder and emergency vehicle lighting world. We'll pick it up back next week to share the rest.
Learn More About HiViz LED Lighting & FireTech Emergency Vehicle Lighting
To learn more about our emergency vehicle LED lighting, check out some of our videos and resources where we talk through emergency vehicle lighting products and how they impact our amazing first responders.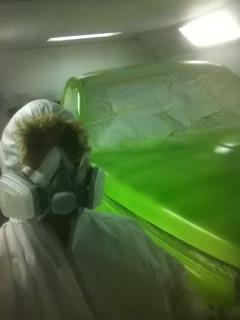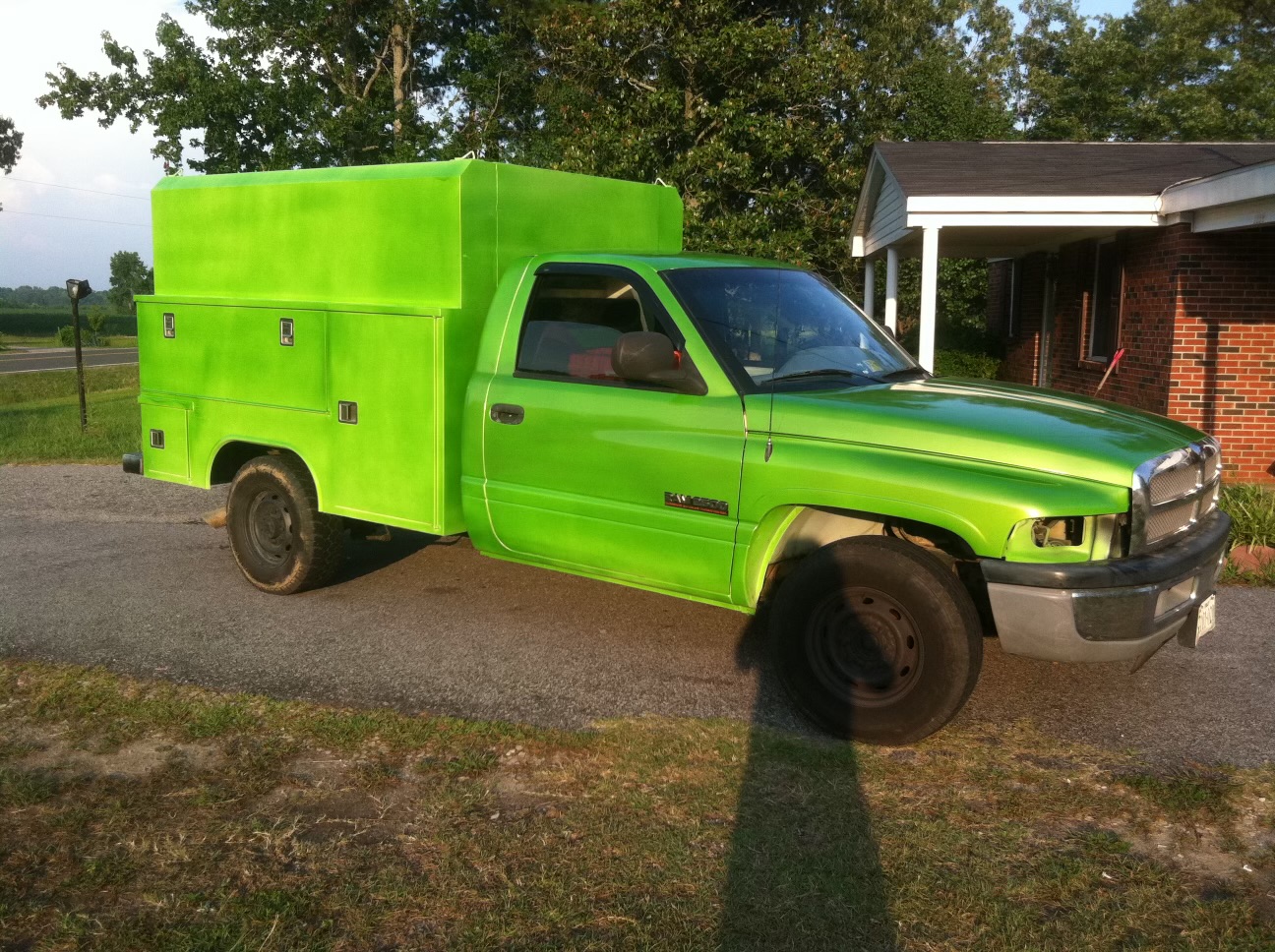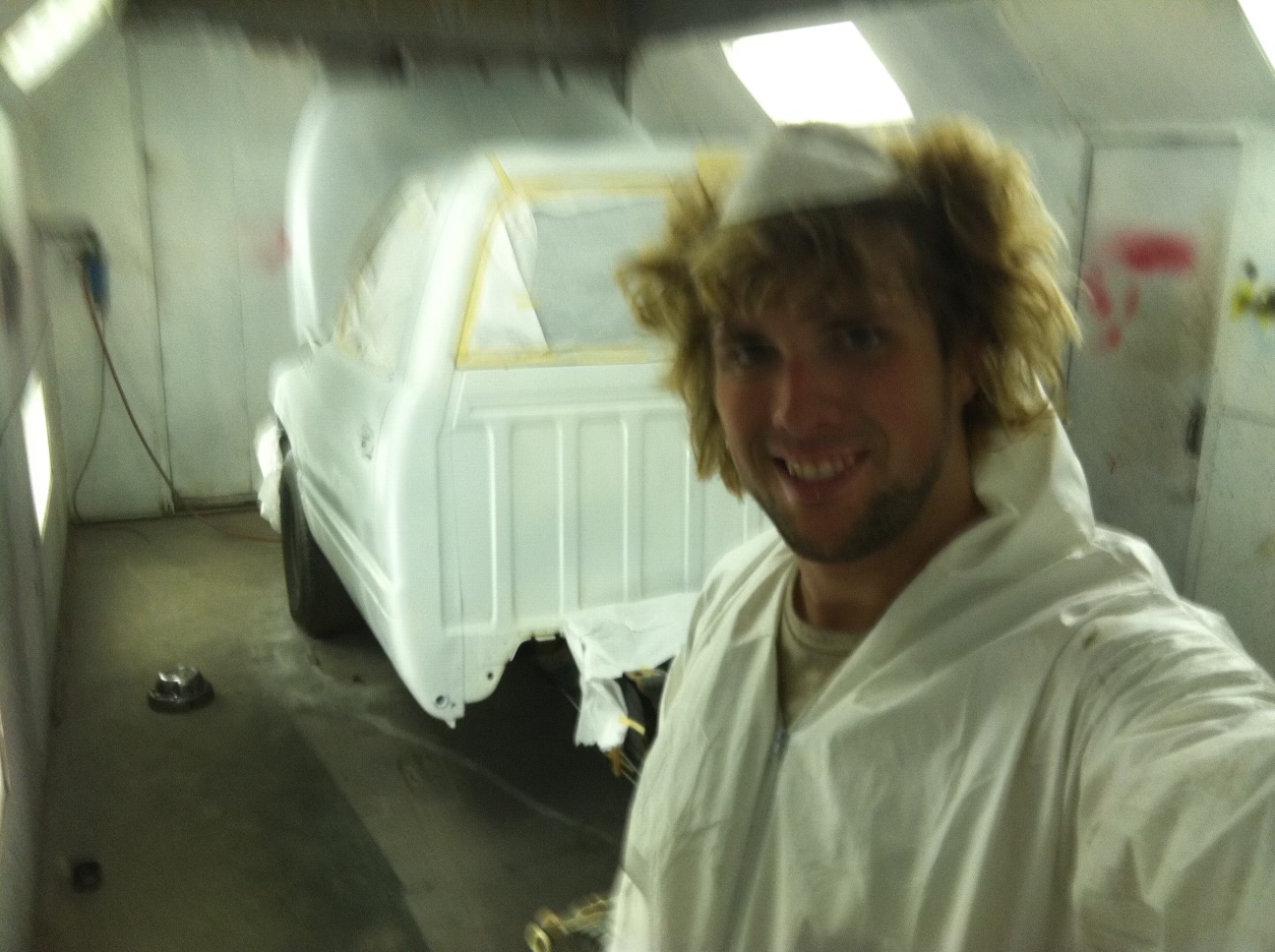 Episode Takeaways
From DJ Liftoff to HiViz Founder & CEO: Sam's story | Part 1
Filmed: May 22, 2022
Released: Jan 23, 2023
[0:0:0] We meet Sam and Kaoma Massa
Kaoma is now COO, formerly Director of Business and Culture. She joined the business 10 years ago when she married Sam, the entrepreneurial owner who doesn't like structure. Kaoma came on to help keep things organized.
[0:0:47] Sam Massa's Journey as a Student in School
Sam Massa was not a great student and often tried to find ways to leverage business or creative methods to get out of class. At an early age, he was intrigued by a PTA mom who was super popular as the DJ for school events and decided to do the same. He started a little business doing DJing for birthday parties and other events, which eventually grew and helped him pave his own path in school.
Sam said, "It was like, I want to go do business. I don't want to go to school … I just want to do anything but sit here in the classroom."
[0:4:54] Sam Leveraged School Resources to Practice Business
Sam leveraged school resources such as the UMTV News studio and computers to practice business and test out his early ideas. He also formed a lifelong relationship with Thomas Bus, which eventually led him to buy a school bus for his DJ business as a 14-year-old. The bus had a mechanical lift and a handicap lift which allowed him to transport equipment for shows, and he paid a high school kid to drive it.
Despite not being old enough to buy or operate a school bus, Sam was always able to find a loophole: "But either way, you can own a business and a business can buy a vehicle and a business can insure a vehicle. And the business doesn't have to schedule the drivers when you do the insurance. And so, I'm 14 years old. They weren't going to give me insurance, but the business can be done."
"We had to take all the seats out because you can't insure it. A school bus is a school bus if it has a stop, arm, red lights, and passenger seats. And you have to have a commercial driver's license if it has air brakes. We took out all the seats from the old school bus so that it could be driven to events without needing a commercial driver's license. It was a lot of fun."
[0:11:18] Teenage Entrepreneur Sam Massa Pursues Business to Create Biofuel and Save Money
Sam had a fascination with diesel engines that began when he was a kid riding the school bus. When he was older and looking for a vehicle to buy, he decided to get an H1 Hummer which had a 6.5-liter turbocharged diesel motor. He saved up every dollar he could from the DJ business and took on other odd jobs to make the purchase.
In high school, he was in a class with teacher Beth Porterhouse (who became a close friend and mentor) where they tried to make biodiesel out of vegetable oil by chemically altering it. The process uses methanol and lye, which can be volatile, and was not safe for 16-year-old kids to do on their own.
"I was motivated by the cost of this thing to operate, but I didn't care about the environmental side. And [his teacher] Beth was like, a diehard environmentalist. And so, she told me, listen, if you can just get this through your little capitalist brain, you could burn vegetable oil in this truck, and it would cost you a whole lot less."
[0:16:58] Sam Builds Biodiesel Production Facility
Sam started researching biofuels after trying to make a bigger batch than their original sample and catching the school lab on fire. He eventually found out about straight vegetable oil, which he installed in his Hummer. After realizing that other fleets may be interested in similar solutions, he hatched a plan to get his GED so he could start a business focused on biofuels.
"So, I thought about it and thought, okay, this would be really interesting. And I contacted a company that did straight vegetable oil fuel systems and bought a kit, installed it on the Hummer, and it worked, and it burned like it was great. I saved 25 or $30,000 the first year I did it, and I was able to burn recycled cooking oil."
[0:19:45] Don't Be Afraid to Break Out of the Mold and Follow Your Dreams
Sam advises people who don't feel like they fit the traditional mold to just go for it and not be afraid of failure.
"You have to have some level of pigheadedness to be able to just get your head down and go. Be willing to listen to advice, but also know when to ignore it."
[0:23:43] GED Graduate Sam Massa Discusses Taking the Road Less Traveled and Looking Back on his Career Path
Sam has no regrets about his decision to not follow a traditional path in school. The GED was the best decision for him at the time and it helped him get out of an environment that wasn't working for him There may be people who look down on not having a degree but it hasn't held him back and he learned a lot from the experiences he had without going to college. Looking back, the lessons he learned cost him more than a college education and he's grateful for what he's learned.
"I would say, go for it. You just have to move the things out of the way that are in the way and get to what is useful and what is helpful. So I use it as a tool, and do I regret anything? No. I think there are many lessons I learned, and I would do things maybe differently in hindsight 2020 and maybe in business, because the MGE business, not succeeding was something that I think not badly, but I think it sucks. It's embarrassing. But I also think that the lessons I learned there, it cost me more than a college education, and I learned as much as a college education without ever having to go to college well."
[0:25:31] How Massa Green Enterprises (MGE) Created a Business to Convert Large Fleet Diesel Vehicles to Burn Recycled Waste Cooking Oil
MGE was a business that converted large diesel vehicles to burn recycled waste cooking oil, called straight vegetable oil. The business used automated fuel systems so fleet owners did not have to teach their employees how to use them. They would set bins out behind restaurants and collect the oil for free, then render it in tanks to remove the water and bad stuff. The business grew but eventually failed due to missteps, covered later on in the episode.
[0:30:4] Challenges faced by a Young Entrepreneur Sam Massa in the Diesel Conversion Business
At this point in the story, Sam was around 18 years old. His first major challenge was that he was not a diesel mechanic. He had to hire help that knew diesel engines, but the way he thought and the way the mechanics worked didn't always align well. Another challenge was growing too quickly without taking the time to do proper due diligence, understand the tech, and really know the team. This ended up costing them capital, time, space, and momentum. Ultimately, they had to close the business, breaking even after three years of investment.
"Have a plan, a backup, and a backup to the backup… all I had was the plan, and the plan didn't work, so the business collapsed"
"It was embarrassing when it didn't go well, because you had to tell people you messed up, and it sucked," Sam reminisced.
[0:33:38] Sam takes a beat at Coble Water Ski School in Lillington, NC
After his biofuel business closed, Sam moved from DC to Lillington, North Carolina to work at the world-famous Coble Ski School. He'd spent his summers there over the years, and at this time in his life was a highly renowned water skier. Sam had just met Kaoma as MGE was winding down; though she hailed from Australia, she was part of the water ski world as well. While working there, Sam was taking time to think about his next move.
One day he got a call from the Governor of California's office wanting him to convert one of their vehicle fleets to run on cooking oil. He eventually agreed to do it, and the next day they sent him the parts and he got to work.
It was a really exciting project for Sam. "[Arnold was the original hummer guy].. It was the coolest thing ever… for someone that was [interested] in [hummers], [Arnold] was like the idol."
[0:36:48] Meeting Arnold Schwarzenegger
When Sam got to California, the first thing he saw was the original H1 and other original vehicles from the 80s, and he knew he was in the right place.
While he was there, he got to drive Arnold's hummer to Predator in Vista, Ca – the shop where they were going to do the work. After completing the conversions, Sam requested to meet the Governor. They set up a media date for Arnold to come to the shop to go through the trucks and get some photos.
Sam asked him, "Hey, um, do you have the same experiences that everybody else has?
Arnold responded, "Yep, I love the Hummer, just like everyone else does. Foggy windshields and all."
"It was really cool to see how connected he was to the 4-wheel drive community," Sam said.
The Governor's team opted for new cooking oil than recycled, so for them, the benefit was much more environmental than economical. Each hummer ended up having a smaller carbon footprint than the Prius in the end.
[0:39:33] Be Audacious and Bring Value to the Table
Kaoma commented on Sam's ability to connect with anyone, no matter who they are, from the CEO of Thomas Bus to Arnold Schwarzenegger to the janitors of his former middle school.
"You are so audacious about just thinking you can be in a room with anybody… very brave to assume they want to be in the room with you as well."
"You have to be brave enough to reach out to people and think that they would want to be in a room with you, but it's also important to think about what value you can provide those people. Don't just expect something from them without offering anything in return. Everyone should be able to sit at their own tables if there is a reason for them to be there and create a balance of value in any relationship," Sam responded.
[0:42:57] Validation from the Governor's Team and Lessons Learned from the Collapse of Massa Green Enterprises
Arnold Schwarzenegger's vehicles were a good final validation for Sam that he really did know what he was doing. The failure of MGE was hard for him at the time, but it was a valuable experience for him to learn from and share with others.
Sam feels that telling stories about his past business experiences helps to establish credibility when talking to customers, especially at his young age. When Kaoma first met him and heard about his life experiences, she felt like he had lived double the amount of life compared to her.
Kaoma: "Give me that path, I'm gonna tic all the boxes... and you were like, screw the boxes, I'm making my own boxes"
[0:46:2] How HiViz LED Lighting Has Evolved Over the Years
The "HiViz" namesake started out as a joke about Kaoma's high-visibility vest she wore as a seed picker in Australia.
In those days, the original intention of HiViz wasn't fully fleshed out. Thinking back to his hummer days, Sam recalled that his customers would outfit their vehicles with a variety of accessories – including off-road light bars.
A Seattle-based company, Vision X, made the original light bar. They were awesome, but also really expensive, so 19-year-old Sam opted to order a cheap copy on Alibaba.com to see if it was any good and whether he could sell them.
Before they could place the order, they had to earn the money for the lights. True to his nature, he did it in an unconventional way: snowplowing. He once made the news for traveling down to Atlanta when they were hit with a major snowstorm. This was the money they used to officially start the business.
From there, Sam sought help from a towing company near where he grew up. The owner was a mentor for him in the towing industry and even bought some of the lights.
Sam joked, "But, spoiler alert, all the lights failed, every single one… don't buy cheap lights, they're trash."
[0:51:53] From Knock-Off Lights to Vision X Partner: How HiViz Lighting Got Its Legs
After the lights from China failed, Sam realized that the lights were garbage and that shipping the lights back to warranty them cost more than the lights themselves. To fix the problem, they bought some light bars from Vision X to replace the ones that failed and became a Vision X dealer.
Sam then attended a tow truck show in Florida, where he realized that the tow truck operators didn't need expensive lights and weren't interested in buying them.
"So HiViz has started as like a toy business that turned into this fledgling failing venture with off-road lights from China that weren't any good. And then I was like, well, shit, now I'm a bona fide dealer distributor for this company called Vision X. I have a market that doesn't actually want to buy expensive lights. And I don't really know what the right next path is," Sam reflected.
After experiencing first-hand the reliability of Vision X products and learning about other markets that needed lighting, Sam realized that the fire market was a better fit for his product. He found that the fire service needed and was willing to pay for reliable, mission-critical, and high-tech products.
Growing up, Sam spent a lot of time buying and taking apart electronics. This played a part in his interest in the lighting in his DJ business, and everyone in the Hummer world had off-road light bars as well.
"The electronics curiosity in your mind lent itself to be interested in these LED light bars. And the market was kind of in that space at the time," Kaoma said.
Sam replied, "It was brand-new tech. It was like the leading edge. Everyone in the Hummer world had off-road lights. Like, there were old Casey highlights. There were 55-watt old-school lights. And then this light bar was like, just totally changed the way you thought about lighting."
[0:57:11] Sam Gets a Green Demo Truck
Sam quickly learned that a proper demo of his product required a demo vehicle. So, he bought an old broken-down truck for $1000 and found a service body on Craigslist for $200. With help from his water ski school friends, he managed to attach the service body to the truck and drove it back to Lillington. He then painted the truck lime green, trying to make it look just like the transformer Ratchet from the movie, and brought it to the local Fire Chiefs at an association meeting.
[1:1:7] From Service Body to Incident Response Vehicle: How Sam Built the First Green Demo Truck from Scratch
Sam went to a local body shop for the paint job, and they quoted him more than he had in his bank account. Since he didn't know the paint code of the Transformers vehicle, he went to an auto parts store and made a guess. His best option was to purchase single-stage urethane spray paint, which he did. Sam primed it in his yard and then sprayed it in a welding booth.
Sam acknowledged how bad the truck really looked, but at the time he was proud of it and used it as the demo truck at the Harnett County Fire Chief Association meeting. Years later, he built a second green demo truck and people around the industry shared their collective relief that they got rid of the first one.
"I was so proud of it. I used to tell people, like, look, we make lights, not trucks. Don't judge us by the truck. But that was really because we had no money, and so it was, like, the only option we had."
Part 2 will release on Monday, January 30th!